Wir gehen in die nächste Runde der Soundhalde – 29.08. – 20Uhr
Dieses Mal erwarten euch 3 grandiose Bands und danach lassen wir die Turntables rauchen.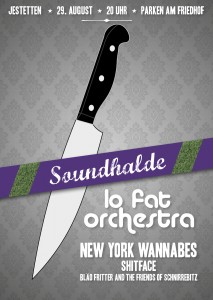 lo fat orchestra (Schaffhausen | CH)
https://lofatorchestra.bandcamp.com/
new york wannabes (Darmstadt | DE & New York | USA)
https://newyorkwannabes.bandcamp.com/
Shitface (Schaffhausen | CH)
https://shitfacepunk.bandcamp.com/
Es darf direkt weitergetanzt werden zu Funk von:
Bläo Fritter and the Friends of Schnirrebitz
Geparkt wird wie immer am Jestetter Friedhof, von dort einfach den Schildern folgen.