Bald ist es wieder soweit – Soundhalde 2016!
Also den 27.08. dick im Kalender markieren, ab 20 Uhr gehts los.
Auf die Ohren gibt es dieses Mal wieder von 3 Bands und unserem DJ!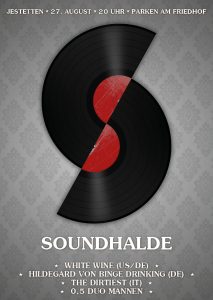 White Wine (Los Angeles | USA & Leipzig | DE)
All Over The Goddamn Place / Post Punk / Goth Rock
Hildegard von Binge Drinking (Würzburg | DE)
Oldschool-Hiphop / Synth-Krautrock / Post-Punk
The Dirtiest (Florenz | IT)
Garage Punk / Psych
0,5 Duo Mannen (DE)
Lässt die Platten kreisen.
Geparkt wird wie immer am Jestetter Friedhof, von dort einfach den Schildern folgen.